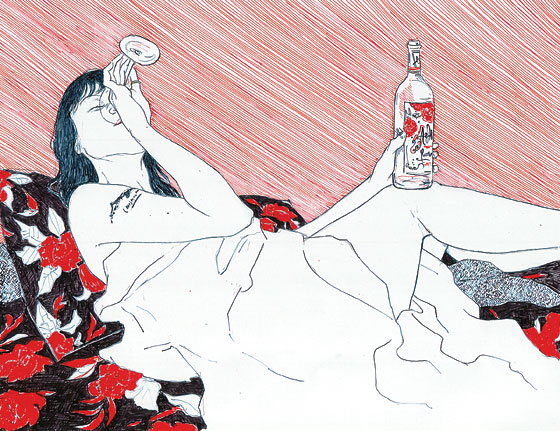 This was an interesting article in the latest NY Mag regarding the rising rates of urban binge boozing business babes "a.k.a." hard-working women finding equality through 'not' puking after ten Irish Car Bombs and a twelve pack of Brooklyn Lager.

I read it all the way through, as well as the 53 mostly frustrated comments posted by angry feminists, lushes, prudes, and anyone else trying to throw their two cents around a new species...a rich persona of party babies I call: the Contemporary

Boozekitten

.

It's funny to me, how this subject makes some girls so defensive--especially the one's who don't (because they can't) stomach whiskey like a champ. What are they so scared of? Why do people take the observations of trends so personally if some written opinions/findings/ideas don't coincide with their own lifestyles?

I respect both men and women who can sip & relax into a nice glass of scotch, a Beefeater martini, or hold steadfast after splitting a bottle of rum. I think I even read somewhere that Socrates could out drink like forty sailors too and still totally philosophize circles around all the wanna-be chumps who didn't even know what questions were!

Face it: it's all a fun composure game. Who cares if who's what or whatever with the

boozytime

shenanigans, as long as folks don't act like complete stumbling, slobbering imbeciles after one Cosmo, a Pina Colada, three glasses of Pinot, a flippin' thimbleful of cordial, or a flamin' keg of "the ultimate corn sauce grog" on an empty stomach.

But do me a favor: don't make-out with and wake up next to that ugly sonofabitch you found in a corner picking their teeth all:

this'll work

because you lost your beer goggles--even though they're still glued to your head where you left 'em.

Girls, boys, women, men: Know your limits around strangers; get wasted if you've had a hard day with friends; just try not to get too hella crunk around your boss at the Christmas party, and especially where there's mistletoe around and you haven't touched a warm ass for what feels like centuries.